Garage door cable drum replacement:
Garage door cable drums are found on the ends of the torsion shaft and look like metal wheels or hubs. Cable drums help the garage door remain balanced and level as cables wrap around the drums. Residential and light commercial garage doors use drums with a four-inch diameter, while heavier doors use five-inch drums. Garage door cable drums are most commonly made from cast aluminum. Garage door drums are the grooved circular rollers attached to the torsion spring shaft responsible for lifting heavy garage doors. Like all other machines, even the small but important parts of the garage door require thorough maintenance. After a certain period of time, as they start wearing out, through the maintenance expert technicians will inspect for garage door problems. Hence, regular maintenance for yourthe garage doors areis required for a smooth operation. It is essential that the broken door drums are must be repaired or replaced as soon as the damage has been detected by certified professionals due to complex repair work. There are three types of cable drums that correspond to three types of overhead-type garage doors: standard lift, vertical lift, and high lift. Each cable drum is manufactured to help the garage door remain balanced as it opens and closes with the help of the torsion springs.
Standard Lift Cable drums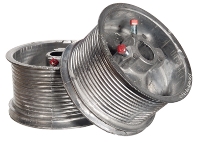 Standard-lift cable drums are flat for the most part. Toward the outside of the door, the last 3/4 of a turn or so on the grooves of the cable drum is slightly raised. This helps keep the garage door balanced as it begins to open. Pictured to the right is the 5 – 1/4" standard lift cable drum.
Vertical Lift Cable drums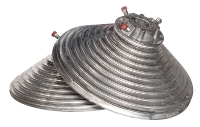 Vertical-lift cable drums are taller than standard-lift drums. When the garage door is closed, the cable is farther from the shaft. As the door opens, the cable wraps up on the drum and comes closer to the shaft
High Lift Cable drums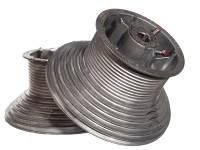 High-lift cable drums have both a flat portion like the standard lift drums and a raised portion like the vertical lift drums. The cable runs on the raised portion while the garage door opens vertically then switches over to the flat portion when the door begins to run on the horizontal track.
What makes us better than the rest?
24/ 7  Emergency service 365 days
Unmatched customer service
Exceptional product quality
Free cost estimation
Experts in garage door rollers
Pocket friendly prices
Locally owned and operated in Houston, call us today at Phone: [ 512] 814 – 8840 .